Like a family home, our dinning room sets the pace as a hallmark of conviviality and intimacy.
FRESH INGREDIENTS
All ingredients are fresh from the daily market, making bespoke service a requirement.
Traditional or revisited Moroccan gastronomy, picnic basket, international snack, everything is possible, with early order, mornings for evenings, or evenings for lunch time.
GASTRONOMY
Classic or revisited international dishes are offered all day long and traditional Moroccan gastronomy is served on order at dinner.
Our cook offers large choice of dishes, but early order before noon, is compulsary, as we use only fresh ingredients from the daily market. 
You are welcome to place your order by email, before your arrival.
Fresh fish arrivals from the Atlantic and from the Mediterranean, happen weekly on Tuesdays, Thursdays and Saturdays. Please kindly note that upon request, our cook is happy to satisfy special requests, diet, vegan, kosher…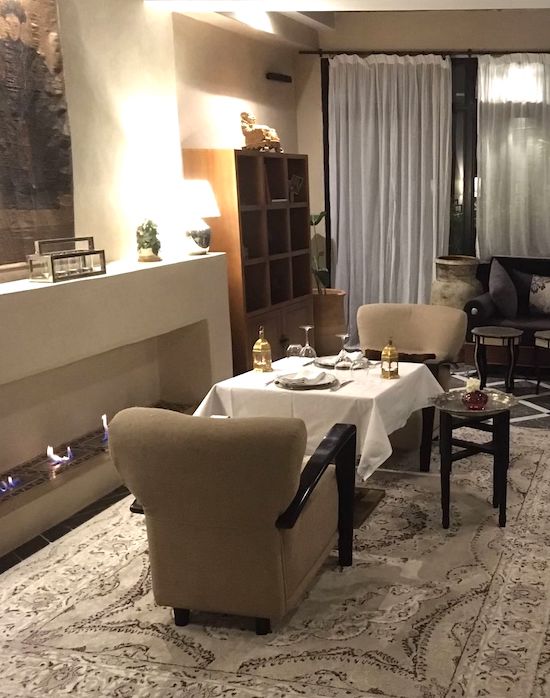 TRADITION
In Morocco, recipes, have always been family secrets and Moroccan restaurants did not exist until the mid 80's.
Dining at Riad Mayfez is the best way to discover the country's cooking secrets, that have been jealously preserved, within the minds of mothers and grand-mothers and are still unrecorded to this day.
Tasting the dishes prepared by our "dada", is a journey through time, flavours and family intimacy.
OUR SILVERWARE
 Striving for timeless elegance, our tables, at l'Odalisque, are adorned with M engraved silverware, once property of the former Mamounia. Bought by Dominique & Moulay, in 2006, when the famous Palace from Marrakech, auctioned its belongings, after closure for refurbishment, this silverware adds incomparable value, that only historical features can provide.