Riad Mayfez Suites & Spa is a great place to live and be with your family.
THE MIRROR ROOM
The Mirror room is a magical setting, ideal to take a bit of distance from computer and smartphone screens, while keeping busy with recreational activities.
Back to old-fashioned board games, family sharing and relaxed communication.
To hosts your card games, a marquetry table from the last century, brought from Syria.
A vintage multiple game box and Egyptian backgammon and chessboard are also available, for the pleasure of adults and children.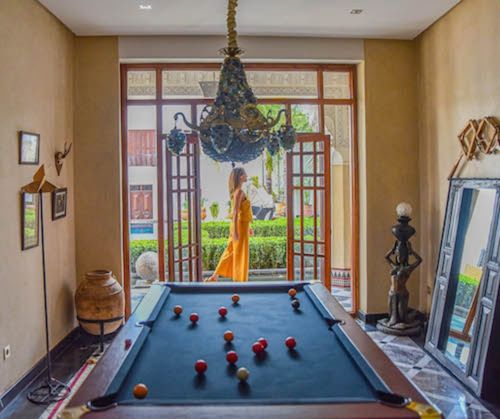 THE BILLIARD ROOM
In a friendly and warm atmosphere the billiard room is the ideal setting for a moment of relaxation and fun.
Enjoy a game or two after a day of sightseeing, then head to the patio for a friendly and fun evening at the bar, or a candlelit dinner in our dining room.
From art book to biographies
Art books, ancient books, novels, biographies telling the life of the noble families of Fez.
In the bar conservatory, in the bar, in the rooms, everywhere, our shelves offer entertaining novels, classics, books of photos, paintings, collections of children stories, comics…
For an immersion in historical Morocco, biographies and novels of Moroccan writers.  A granddaughter from the Tazi family tells her grandmother's story, the vizier's wife for whom Riad Mayfez was built. Moulay's mother, a retired history teacher and one of the first women academics in Morocco, decribes the life in the heart of Morocco's 50's and 60's, in historical novels, that are more or less autobiographical.
THE LIBRARY
Plunge into Moroccan culture
For German speakers, an exceptional biography, written by an Alsatian doctor, who settled in Morocco in the 1940's and who was Dominique's family doctor, when she herself arrived in Morocco in the 1970s.
An immersion reading, ideal to blend into the atmosphere of the medina and the local culture. These books are to be read by the fire in winter time, by the pool or in your room, curled up in your cozy bed.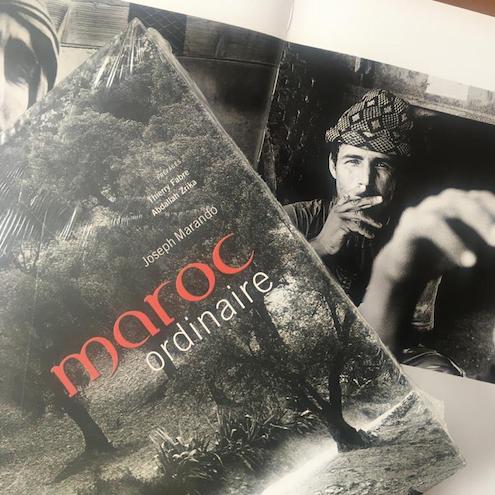 COOKING CLASS AT MAYFEZ
Cooking, an oral tradition
If you plan to treat your friends with a Moroccan dinner, once back home, then having a cooking class, is a must.
Moroccan gastronomy is the secret of the « dadas », the housekeepers of Moroccan homes of the past. They are the memory of the noble families, from their values and their cooking secrets, which they themselves pass on to their daughters, when time comes.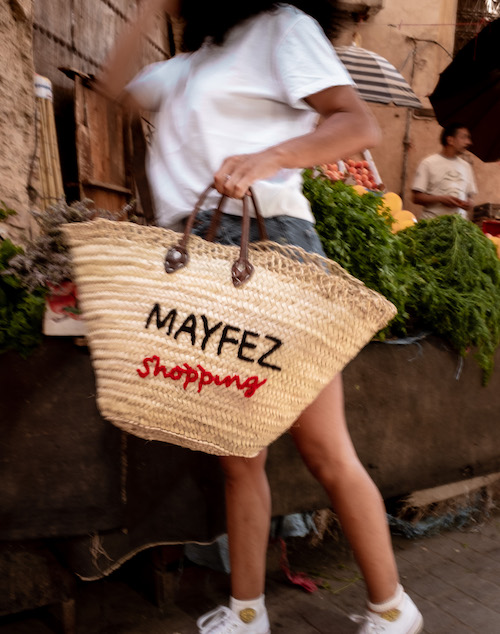 Experiencing a Mayfez cooking class
Taking a cooking class at the Riad is a way of becoming familiar with this oral culture and being initiated to bringing home, more than a know-how, but a culture.
Attending a cooking class at Riad Mayfez, is a journey through time, flavours and family intimacy. You will be introduced to some of the cooking secrets from our dada.
Tasty pleasure and laughter guaranteed.
How is a Mayfez cooking class unfolding
In the morning, our dada will take you shopping in the souk, meet our growers, choose your ingredients, enjoy the smell of spices, learn a few sentences of Arabic, are as many experiences, that will punctuate the first part of your cooking class experience.
Back at the Riad, you will create your menu from A to Z. You will learn the tips and tricks of dada Khadija, in a friendly atmosphere. From peeling, to chopping, stirring and simmering, you will enter the dance of saucepans and frying pans.
Our "cooking students" usually choose to learn to prepare three appetizers and one main dish, before being treated to a demonstration of the dessert preparation. But you can also decide to prepare main course and dessert.
At the end of these four unforgettable hours in the heart of our kitchens and cooking processes, Moroccan appetizers, tajines, couscous and pastilla will have no more secrets for you.
At dinner time, you will enjoy the fruits of your labour in our cosy atmosphere, by the pool or in the restaurant.
You will leave, with a collection of recipes and a selection of spices, as a souvenir gift.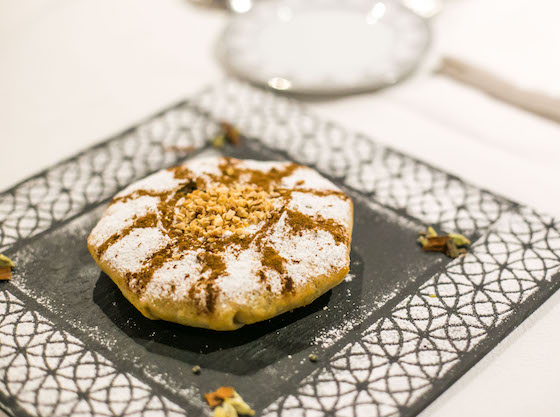 Tradition of the "dadas"
The kitchen is the world of the dadas, women of confidence, guardians of the families' secrets, cook, governess, that used to officiate within the wealthy Morrocan families.
In Morocco, recipes, have always been family secrets and Moroccan restaurants did not exist until the mid 80's. Dining at Riad Mayfez is the best way to discover the country's cooking secrets, that have been jealously preserved, within the minds of mothers and grand-mothers and are still unrecorded to this day.
Attending a cooking class at Riad Mayfez, is a journey through time, flavours and family intimacy. You will be introduced to some of the cooking secrets from our dada.