WELCOME
Mayfez
Luxury and prestige in a family spirit.
Moulay and Dominique are delighted to welcome you all year long in a glorious blend of authenticity, luxury and design where the provided tailor-made services are combined with the charms of an elegant traditional Riad.
More than just a guest house, our 5 suites are an invitation to travel and contemplate…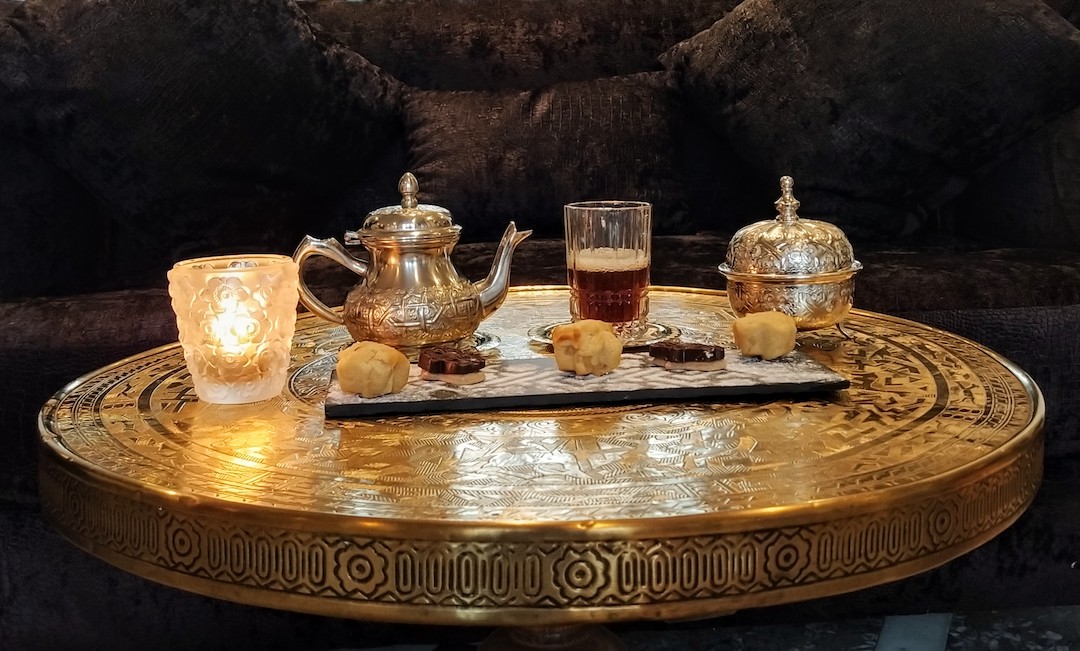 Riad, Palace or Résidence, Riad Mayfez Suites & Spa is not a conventional hotel.
It is a place, that has kept the family intimacy and Parisian chic, of these houses reminiscent of the palaces of the past, when each refined detail was a tribute to the deliciously nostalgic elegance of a sophisticated lifestyle.
THE MEDINA
The Medina of Fez is the heir city of Andalusian culture and the cradle of the main Moroccan dynasties. Built in the VIIIth century, Fez is fascinating and bewitching, both traditional and modern.
You will be mesmerized by its medieval Merinid architecture, its old-fashioned atmosphere and its lively souks. Our guide leads you to the discovery of the Old Medina, from the traditional tanneries, the Royal Palace, the foundouks, mosques and medersas to the Mellah (Jewish quarter), which holds a special place, with its unique and peaceful white cemetery overlooking the hills and its synagogue sheltering parchments dating back to the four centuries.
Beyond the monuments and exceptional architecture of Fez, take the time to observe the local population. The craftsmen with ancestral methods still holds the keys to transform noble materials into treasors.
But above all, don't miss a glass of mint tea at Boujloud… the most immersive way to discovering Fez !
Best service , highly recommended
My husband and I stayed at this riad during our holiday in Fez , we've enjoyed every night at our beautiful room , the service was great , we also got chance to tour the medina with Mohammed Bousfiha one of the best guides in town we felt like home , I would definitely come back soon 🙂
Absolutely a piece of heaven
"During our stay in Fez we have decided this time to go to Mayfez Riad and there was the absolute surprise, a very cosy and relaxing spot with a tasty Moroccan / international cuisine.  "
Riad Mayfez is a MUST STAY! Beautiful Charm with an Amazing staff!
"The interior property of Riad Mayfez is absolutely amazing! Truly old charm. There are only six suites. The rooms are beautiful. Really stunning! The staff is amazing, top notch. They were there for my every request. Celebrated wife's 50th birthday. "
AMAZINGGGGG
"The Riad is absolutely gorgeous, luxurious and a delight to come home to after a long day of sightseeing.The rooms are huge and so beautifully decorated. It is well located in the center of the Medina with easy access to all the major sights. The breakfast and dinner are mouthwatering! But what makes this place stand out is the people who work there, the constant smiles on their face, and eagerness to make your visit top notch."