A magical place that welcomes you in a warm and friendly atmosphere. Dedicated to our guests only, the Mayfez bar provides two different settings.
THE CONSERVATORY
The conservatory, link between the Bar and the patio, marks the colonial atmosphere of yesteryear.
Through its large windows, it is bathed in natural light by day, and opens to the stars by night. Sofas covered with white canvas stand alongside deep rattan armchairs. The Chinese lacquered console welcomes our library.
Window to the sky, it provides relaxation and serenity to our readers and dreamers. The Bar conservatory is the ideal setting to relax with a book, have tea in the afternoon or breakfast in the morning.
LOUNGE BAR
The Bar Lounge, designed as a cozy sitting area imprints the purest English style of the beginning of the XXth century.
On the floor, authentic mosaics; on the ceiling peaking at more than 5 meters, cedar beams; on the walls, sculpted plaster friezes ornate the windows.
Set with comfortable brown leather sofas and a marble fireplace, the Salon provides a warm and cozy atmosphere for long lasting evening conversations. A jazzy atmosphere provides the background for secluded and intimate moments, with friends and loved ones.
Sometimes, at the end of the day, the notes of the old phonograph mingle with the clicking of ice cubes and can be heard from the patio and the swimming pool.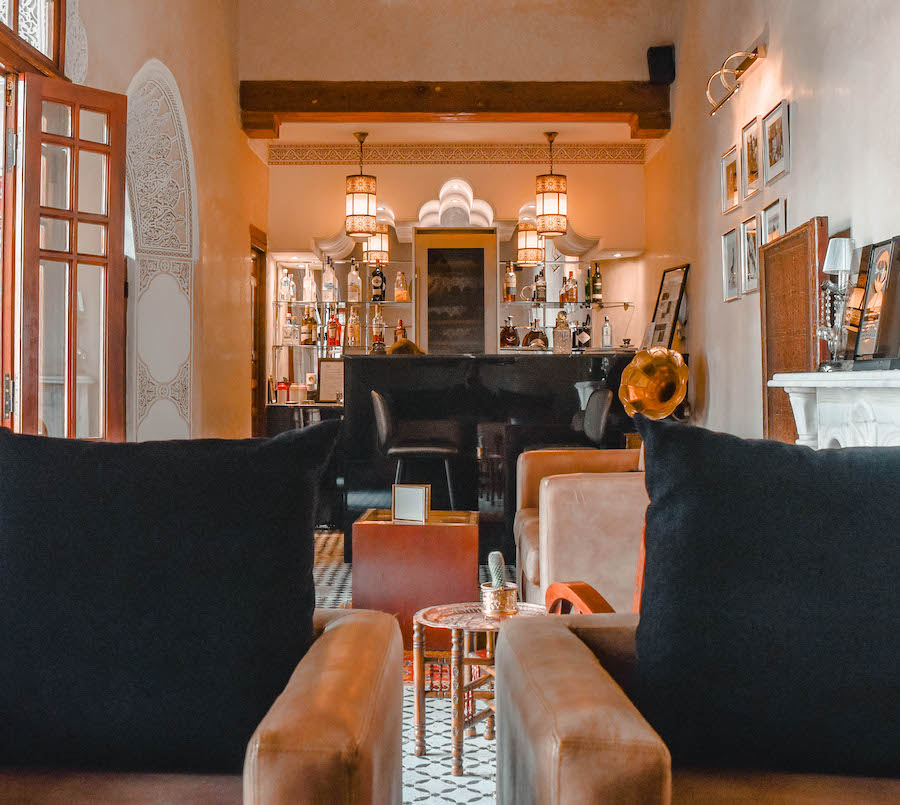 COCKTAIL OR DETOX JUICE?
Casual place, by day, a must for pool guests; the Mayfez Bar is transformed, like a magic lantern, into a lively and joyful place, when night falls, and the barman has replaced vitamin-rich juices with divine liquors.