At Riad Mayfez, the number of suites has been deliberately limited to five, in order to offer highly personalized service, as well as natural social distancing.
The Riad combines the services of a prestigious hotel, with the benefits of a private property. A butler provides bespoke service for guests to arrange their stay, in the smallest detail.
Mayfez is the largest Palace in operation in the heart of the medina. It was designed to maintain the authentic charm and human scale, much like a homely family spirit, to create a sense of privacy and discretion.
At Riad Mayfez, the overall eclectic decoration is a tribute to both East and West Au Riad
At the restaurant, bar, mirror room or billiard lounge, Moroccan know-how is in the spotlight. The beauty of details is everywhere. From painted cedar panels to carved plaster, to the elevator disguised as a travel trunk, to chandeliers and chintz curtains, there is always a marvelous detail to gaze upon, while walking through Riad Mayfez.
With only five suites, a restaurant and bar dedicated to the hotel guests only, caring and friendly service, privilege of a spacious terrace, accessible by lift, offering panoramic view; Mayfez appears as a true exclusive experience.
Today, the Riad unfolds its columns around a pretty courtyard and a heated swimming pool made of black marble, that has replaced the monumental fountain formerly intended to water the garden.
Architectural jewel of «belle époque» oriental style, the Riad offers all modern comfort and welcomes you in a friendly and true family spirit.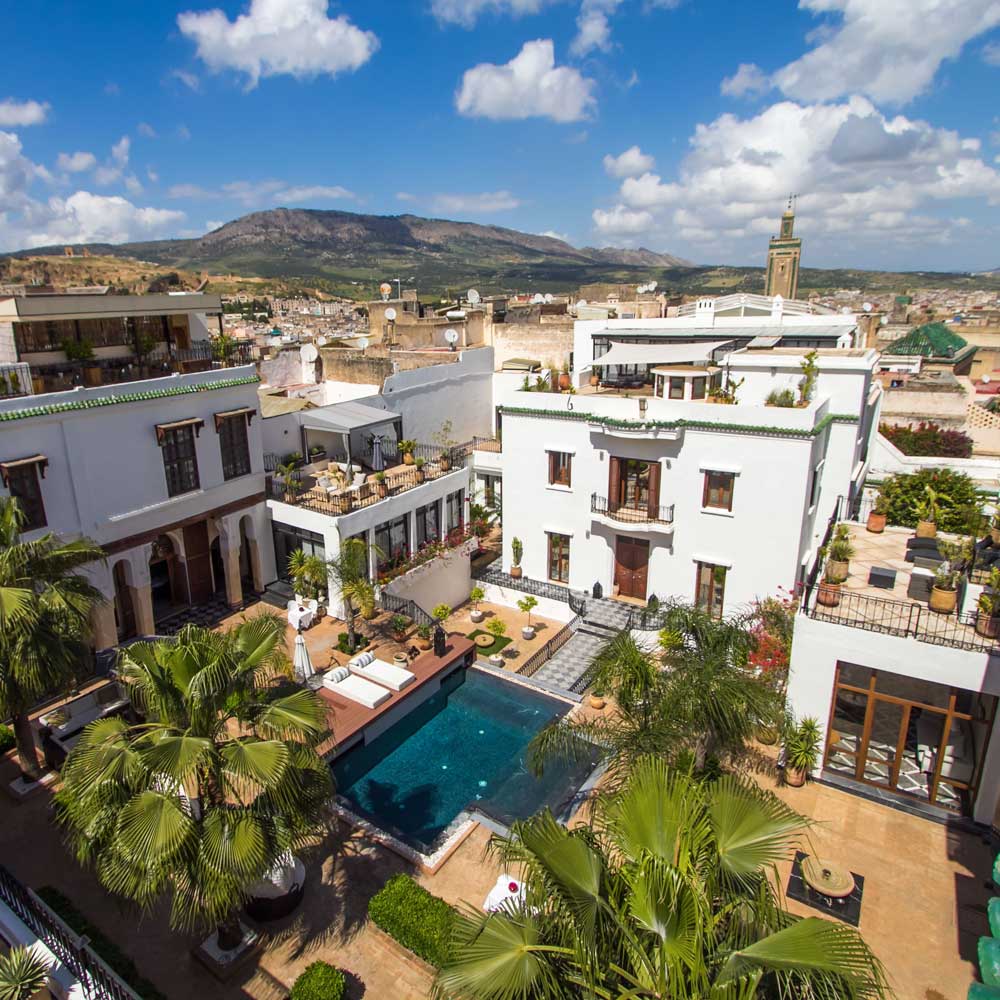 As Lady of the House, Dominique Laraqui officiates on site, thanks to a team entirely dedicated to the comfort of her guests.
True to Moroccan hospitality, the art of welcoming, is led by caring and quality of exchange between the Riad, the staff and the guests.
Riad Mayfez combines the services of a prestigious hotel, with the benefits of a private property, for precious moments.
Riad Mayfez Suites & Spa is not place to simply drop your luggage. It is a place to relax and rejuvenate.