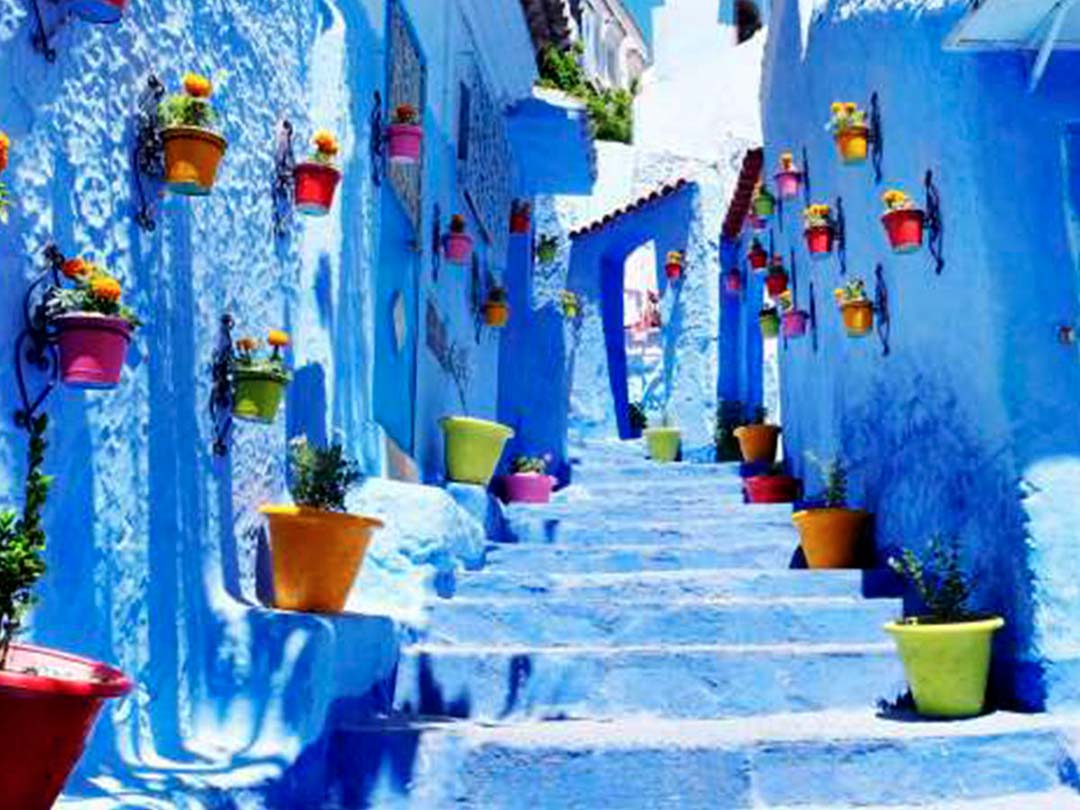 CHEFCHAOUEN
In recent years, the visit of Chefchaouen has become a must. Our drivers take the bravest to the discovery of the blue city. A 3-hour journey go end then return, through the Rif mountains. Amazing landscape through out the journey and upon arrival.
The city was founded in 1471, as a small fortress – Kasbah, to fight the Portuguese invasions of northern Morocco. Along with the Ghomara tribes of the region, many Moriscos and Jews settled here after the Spanish Reconquista in medieval times.
Chefchaouen's blue walls are a popular subject of interest. There are several theories as to why the walls were painted blue. One popular theory is that the blue keeps mosquitos away. The blue is said to symbolize the sky and heaven and serve as a reminder to lead a spiritual life.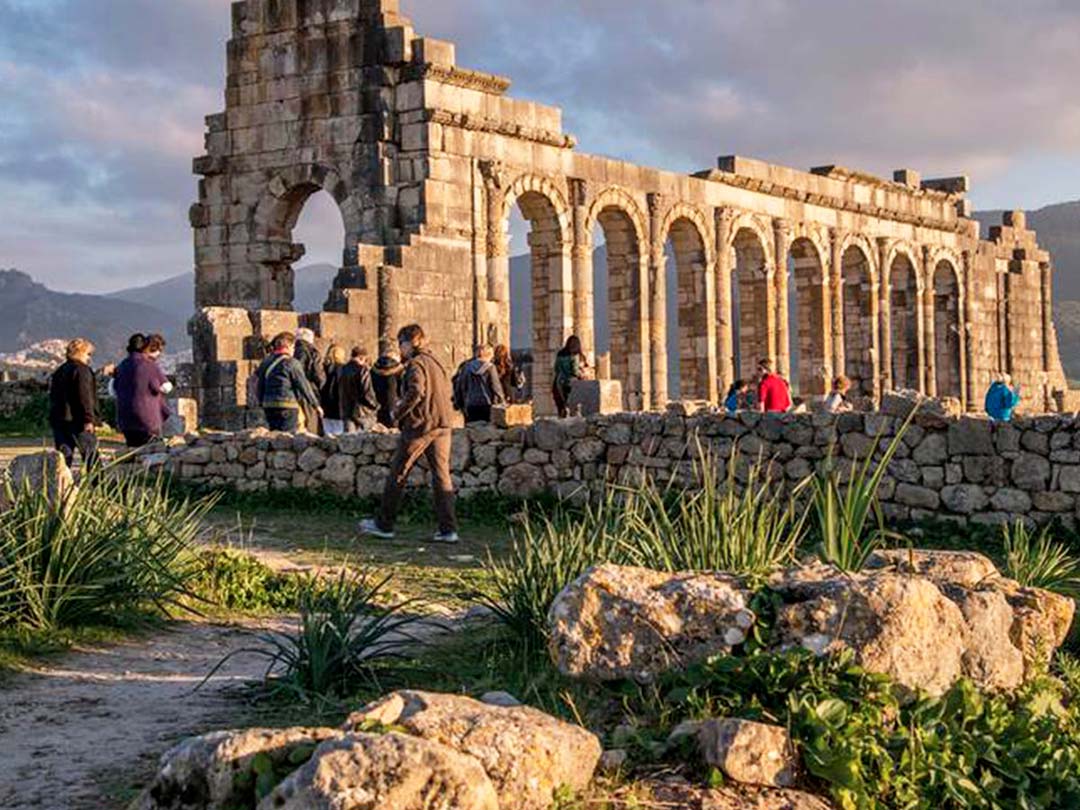 VOLUBILIS/MOULAY IDRISS/MEKNÈS
We will not forget the nearest surroundings with the rich and proud Meknes, the great neighbouring rival, but also Moulay Idriss, the mausoleum of the founder, who overlooks the beautiful Roman site of Volubilis dating back to the 1st century and beautifully preserved. A day trip through the agricultural region of Meknès, its vineyards and olive groves.
MIDDLE ATLAS TOUR
A one day journey that leads you from Fez to Azrou, passing through the small town of Immouzer, summer resort of the Wealthy Fez families, that fell into disuse with the arrival of air conditioners, in the villas in Fes. Small detour by the impressive Lake Daiet Aoua, before reaching the city of Ifrane, which owes to its architecture, the name of «Switzerland of Morocco». Then, up to Michlifen and its ski slopes. And finally, the road criss-crosses to Azrou, to the discovery of the cedar forest, where you may get to meet the magot monkeys.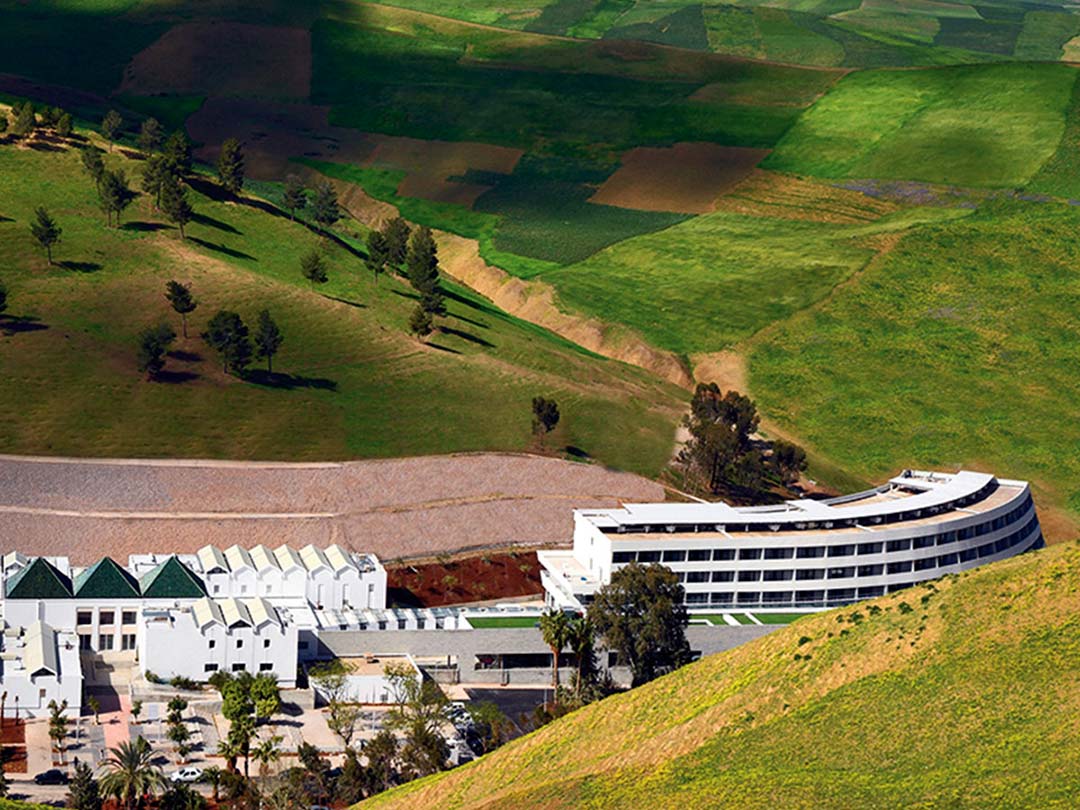 MOULAY YACOUB
A renowned spa resort, recently renovated by Vichy, Moulay Yacoub offers a remarkable parenthesis of well-being.
Deemed for its effective sulphurous waters against rheumatic pain and skin diseases, the thermal baths offer pleasant wellness programs… An ideal experience to spend half a day.