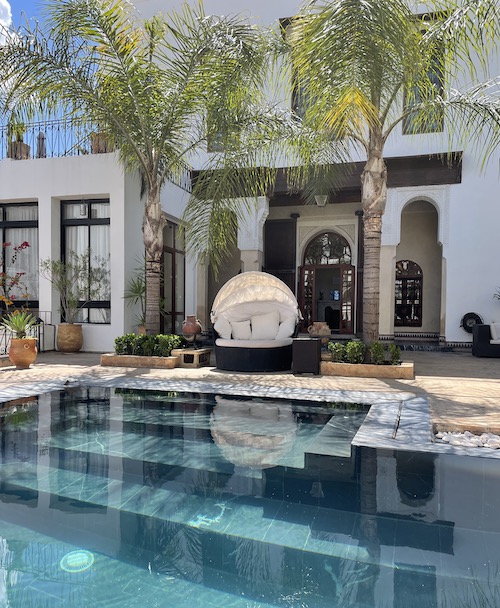 At the very center of the House, the black marble swimming pool is the focal point, where guests meet and relax.
Both sober and contemporary with its wooden deck, the swimming pool, is located in place of the former fountain, that was used in older times to water the garden.
Heated nearly all year long, our swimming pool, offers a suitable temperature for swimming all year round. It enters winter period between late November and mid-March, when the temperatures of Fez get really cool, offering its pretty green and blue shades to contemplation, but not allowing swimming.
Stop the clock and take a break from an overbooked agenda and the constant gaze of others… That's what people come here for, by enjoying a few laps in the pool, or settling into a private alcove in the patio garden.
At Riad Mayfez' pool side, your time is yours alone.
The Mayfez Swimming Pool is reserved for hotel residents only and offers a daily Spa Mayfez package upon reservation. Number of places is very limited, make sure your book well in advance.